Contact us
from 8h to 20h (Paris time) 7 days a week
To book, to prepare your stay or for any other inquiries please contact us. We promise to respond as soon as possible and we will be happy to assist you.
Out of France
(33) 2 96 46 36 57
(33) 6 89 49 30 60
Who we are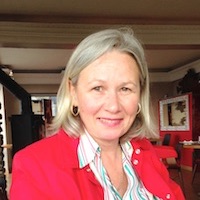 Christine : native of this beautiful region of Brittany, I love to share my passion for the Pink Granite Coast. I like it because it has preserved its natural environment, its sites are remarkable, its people have the sense of welcome and the sea ... the sea so beautiful in all seasons: sometimes calm and clear and other times stormshroud and covered with foam. The air here is iodized, light and transparent. The heavens offer a whole palette of colors. The light is intense and provides emotions in every moment.
I rent out the apartment since December 2014 to share this little paradise where it is good to live. From the 4 cardinal points, everything is beautiful: the 180 ° view of the sea and the rugged coast, the sun and the moon reflected themselves in the water, the beautiful changing light throughout the seasons, the park which hosts many birds and butterflies ... and this calm so peaceful.
To personalize your stay, I would be glad, if you wish, to advise you on sites not to be missed and activities to do. I also let brochures in the accomodation for all ages and for everybody, as well as circuits for pedestrians and cyclists.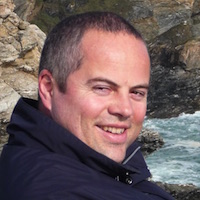 Loïc : Breton, born in Saint Malo, I fell in love with the Pink Granite Coast and Trébeurden in particular. The coast is beautiful, extremely varied, alternating cliffs, dunes, beaches, coves and rocks. I am passionate about ornithology, geology, weather and nature in general. I love to share and explain the ecosystem and climate of the coastline in Tregor. I take care of maintenance of the apartment to make your stay perfect. And I also manage the website to promote this place unique and soothing.
Strengths of this apartment are its breathtaking view of the sea and its southern exposure. The environment of the cottage and silence are particularly appreciated. Another asset is its direct access to a wild creek, with sandy beaches and rocks for fishing. The park 5 500 m2 is completely natural: no pesticides nor herbicides. It is an LPO (League for the Protection of Birds) reserve and is bordered by the coastal path that runs along the coast from east to west. The apartment completely renovated and newly equipped is rated 4 stars ****. It benefits from large windows that let in light from morning to night. And for the comfort of our guests, all services are included (linen, beds made on arrival, arrival kit offered, including tax, heating, water and electricity included, WiFi in every room, cleaning made at the end of the stay).
Meet us on websites of our partners
The cottage is now also on vacation rental sites HomeAway and AirBnB. To book or check availability, you can either stay on our website by going to the pages Availability & Rates and Booking, or go to one of the following reservation sites if you're used.
Meet us on social networks
Anticipate and extend your stay by following our news on Facebook. You'll find news of the cottage : photos and videos taken throughout the year, mini-reportages, tips for your stay, sporting and cultural events in Tregor. This content is also available on our website page News.
Ar wech all (see you soon in Breton)